Website builders—sites like Wix, Weebly or Squarespace that provide easy-to-use, drag-and-drop tools that let you create your own site without having to learn a lick of code—have come a long way from the clunky do-it-yourself options of just a few years ago. These days a small business owner can log in to single site and buy a domain, build a decent-looking website, set up a store and be up and running in fairly short order, without paying for a designer or developer.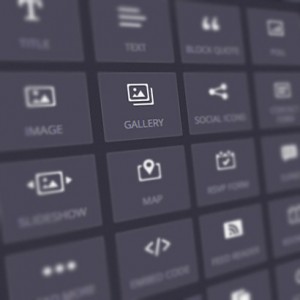 And that, from the standpoint of this designer and developer, is a good and valuable thing. For the majority of new ventures, I recommend website builders as a smart solution that solves a whole set of short-term problems, quickly and relatively cheaply.
Are they right for your business?
The value of website builders lies in the promise of instant gratification; if Jerry comes up with a brilliant product idea at lunchtime, he can be selling it on his very own website by the time he goes to bed. First short-term problem: solved!
And Jerry really only needs to worry about short-term problems, because that's the only kind he's likely to have. As a rule, startups that are conceived, hatched and kicked clear of the nest before that fifth cup of coffee wears off don't stay in business long enough to report fourth-quarter earnings.
So a drag-and-drop website builder can satisfy Jerry's needs perfectly well—and for the life of his business—while incurring no unjustifiable expenses. That is good, and valuable.
Business owners who plan for success and growth might have different requirements.
Three ways to paint yourself into a corner
By their nature, easy-to-use website builders demand three major compromises that many business owners might not feel great about:
1. Chaining yourself to a vendor: Those drag-and-drop tools come courtesy of some very specialized code that makes it difficult—and, in many cases, impossible—to move your website to another hosting vendor. When your site outgrows its host's limited capabilities, you stand a very good chance of having to rebuild it from scratch, on a completely new platform, at significant cost.
For a fast-growing company, that day could come very quickly.
2. Undermining your brand: A company's visual identity should inform the look and feel of its website—not vice versa. While some of the website builders' site templates are genuinely attractive, they're attractive in a blandly generic kind of way; shoehorning your brand into a commoditized design is a great way to get lost in the background noise.
Especially when your competitor across the street can go and use the same template.
3. Committing way too much of your own time: Our impulsive friend Jerry was able to finish his do-it-yourself website by bedtime because he A) didn't worry too much about quality and B) didn't already have a business to run. Owners with more exacting standards and a real stake in their own success aren't going to find the process so speedy—even with their significantly later bedtimes.
The fact is, building a website that outlasts your first batch of business cards takes time, planning, knowledge and skill. If you're in business for the long haul, make sure your short-term solutions aren't setting you up for long-term problems.