Following up on my last couple of posts: here's a perfect example of 1) giving your customers a story they can't wait to tell, and 2) getting it done in 300 words or less.
Phil's 550 is a little convenience store in the woods outside of Marquette, MI. Owner Phil Pearce has a Facebook page and a website, but more importantly he has a big lighted sign out on the road: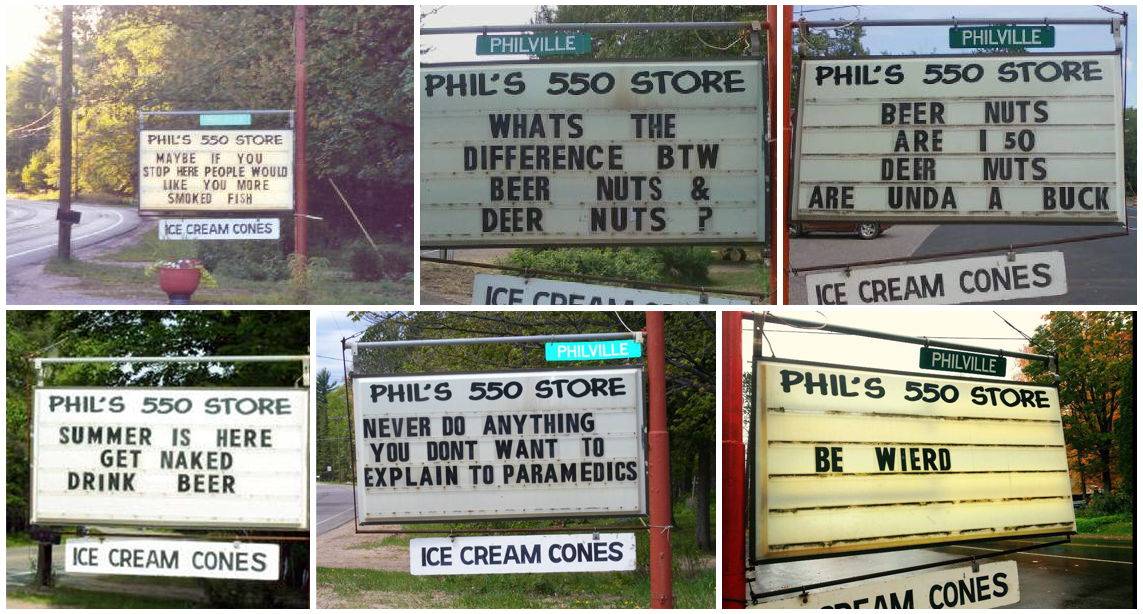 His store has no Twitter account, but he's right next to a college town full of people who do. So Phil goes out to that sign every day and gives them something to Tweet about.
As a result of all that free publicity, his little store is a must-see side trip for many visitors to Marquette. For a guy who runs a business out on a county road, a road that goes nowhere in particular, that's huge.
How can you duplicate Phil's success?
Make it about me, not you: Phil gives away laughs for free, and doesn't bore you with news about this week's sale on Pepsi. If you hand me something of value every time I brush up against your brand, I will repay the favor by buying your product.
Speak my language: Phil's sense of humor isn't for everyone, but it's characteristic of Marquette County; no matter where you live, local people appreciate not being spoken to like a marketer's lowest common denominator. Plus the out-of-towners appreciate an authentic souvenir to Tweet to their friends back home.
Be conscientious and consistent: Phil's been at it since 1996. It's not easy being funny and concise all the time, and I imagine there are days when he just wants to slap OPEN 6AM M-F on that sign and take a couple months off. But that's no way to run a business.
Phil's 550 shows how a unique voice—assertive, honest and generous—can power small business success even in the near-absence of a marketing budget. While an aggressive digital media strategy can amplify your voice exponentially, the voice itself is up to you.