Did I tell you about that time my friends sold me a MacBook?
Yesterday I tweeted about an article by Stuffocation author James Wallman, who argues that only those businesses that deliver pleasant or meaningful experiences will thrive in a social-media-driven market where consumers are losing their appetite for stuff, stuff and more stuff. Whether you're selling tires or manicures, they had better come with a story your customers will want to share with their friends.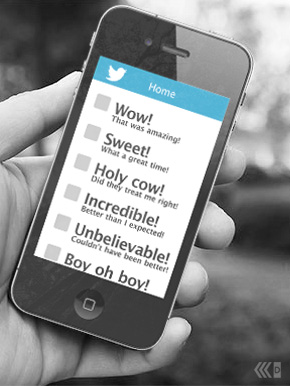 The premise of Stuffocation is worth debating, but there's no doubt that brands that deliver an outstanding experience are better positioned to thrive than those that deliver only stuff—no matter how well-made, beautiful, useful or exclusive that stuff.
This has been true forever. Customers have always had the awesome and terrible power to make or break a business with word-of-mouth; if you didn't give your customers a good story to tell, they were liable to tell a bad one. Twitter and Facebook merely speed the process along. Rises are more meteoric, demises more swift and merciful.
The textbook example of a company that benefits from the value of stories is Apple. The company has always sold high-quality stuff, but Steve Jobs' legendary insistence on delivering a deeply satisfying and enjoyable experience from start to finish is why it sells so much high-quality stuff. I've told many people about the time I unpacked my first MacBook: how I kept whispering "Wow!" at the pristine white carton. At the simple and clever way the interior space was organized. At the first-rate packaging materials. At the brilliantly intuitive user's manual. At the smell.
The smell! Wow!  

I didn't buy that MacBook because Steve Jobs told me to buy it; I didn't buy it because Steve Jobs told my Apple-evangelist friends to natter on and on about theirs.
I bought it because Steve Jobs imagined the kind of experience that my friends would have to tell me about—and then made sure they experienced it.
Long before any of us had MySpace accounts, my friends sold me a MacBook.
So think about the stories you want your customers telling about you. The business that succeeds will have found ways to make those deeply satisfying and enjoyable moments happen.